Charleston SC Churches
HOME DOWNTOWN CHARLESTON MOUNT PLEASANT SULLIVAN'S ISLAND DANIEL ISLAND JAMES ISLAND
WEST ASHLEY JOHNS ISLAND CHARLESTON RELOCATION CHARLESTON AGENTS PROFILE
Charleston Churches
Discover Charleston SC and why it's known as the Holy City
CHARLESTON CHURCHES OVERVIEW
"The Holy City" – Charleston has long been nicknamed the Holy City for its concentration of historic churches and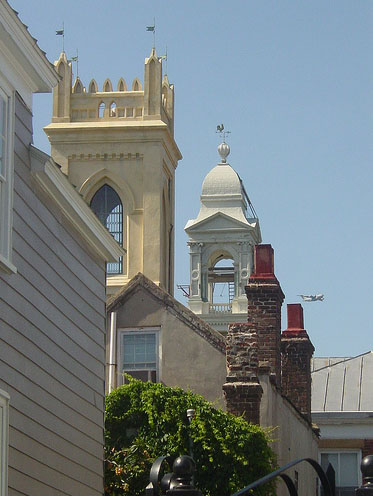 denominations. This dates to unique guarantees of religious freedom written into the original colony's constitution back in 1670 by the great English philosopher John Locke. As a result, many oppressed beliefs found safe haven in Charleston, and the city became a melting pot for the Congregationalist, Unitarian, Quaker, Baptist, Catholic, Jew, Presbyterian, Anglican, African Methodist-Episcopal, and Lutheran. Learn more about Charleston's famous gardens, churches, architecture, interiors.

With towering spires etched in the peninsular skyline and grand columned porticos presiding over Charleston neighborhoods, their places of worship would become the very image of the city itself, and it's ironic that the oldest steeple, St. Michael's, would be the focal point for Federal gunners sighting in on the city during the Civil War.

Today, Charleston still features the only French Anglican church in North America - a magnificent 1845 Gothic Revival structure on, understandably, Church Street, just a few blocks away from the Greek Revival building that has served since 1822 as the South's oldest Baptist Church.

There's also the hemisphere's oldest Jewish synagogue in continuous use – an 1841 Classic Revival masterpiece Kahal Kadosh Beth Elohim on Hasell Street just across from the mother church of Catholicism in the Carolinas and Georgia – Tuscan-porticoed St. Mary's, built in 1839.

Many of the city's steeples are genuine bell towers and ring each day, but none is more famous than St. Michael's, whose bells date to 1764 and peal with the traditional hand-on-rope style of change ringing.
Have a few more minutes? Learn about Charleston's famous gardens, architecture, interiors of Charleston's finest homes, watch a video on downtown Charleston or take self guided walking tour of Charming Charleston.